The New Americana — A Conversation with Composer Kenneth Fuchs
Interview by Jerry Dubins, Fanfare Magazine
(used with permission)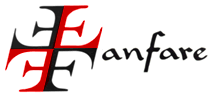 Twice now I've had occasion to review releases of works by American composer Kenneth Fuchs. The first was in 2003 (29:3), a Naxos CD with JoAnn Falletta leading the London Symphony Orchestra in three of Fuchs's large-scale orchestral scores; and the second was in 2006 (31:6), another Naxos disc with Falletta and the LSO, this time in a collection of Fuchs's Horn Concerto and shorter works, each featuring various first-chair players in the orchestra.
At the time, I described Fuchs (b. 1956) as a new breed of American composer, one who has been transforming the landscape of contemporary music. Largely eschewing the experimental and avant-garde techniques of the 1960s and 1970s, he has returned to writing music that draws upon some of the best and most successful models of American mainstream Modernism: Ives, Copland, Gershwin, Barber, William Schuman, Bernstein, and a number of others who fashioned a kind of classical music "of the people and for the people."
A spate of recent arrivals dedicated to Fuchs's music — two brand new ones on Naxos and one that's been in circulation on Albany Records since 2001— made for an opportune time to interview the composer.
Jerry: Let me begin with a very broad question. At probably no time and place in history has there been such a profusion and mind-numbing confusion of musical genres and styles as there is today in America and Western Europe. Lines between classical, jazz, popular, Far Eastern, Middle Eastern, Indian, African, exotic, and electronic music have blurred, as composers freely mix elements together or choose to cultivate a more homogeneous style. In this intoxicating brew — one might call it state of chaos — what is it like to be a composer in the 21st century?
Ken: The words that immediately come to mind are liberating, enlightening, and challenging. Liberating, because a composer no longer has to be doctrinaire. From one piece to another you can cross stylistic boundaries, or combine technical procedures and stylistic elements within one piece, or after having absorbed elements of several stylistic developments choose to amalgamate those influences into a homogeneous style. Enlightening, because it's fascinating and inspiring to see and hear the technical proficiency and creative energy with which contemporary composers often wield disparate stylistic elements to create meaningful and communicative musical statements. Challenging, because there are so many available styles to master and assimilate into one's own composition — while finding one's own voice. The field of contemporary composition is extremely competitive. It takes intense discipline to be a professional composer. This discipline extends beyond writing music on a regular basis to entrepreneurship: promoting your music through publication, personal appearances, and online media, such as Facebook, Twitter, and YouTube; recruiting conductors, singers, and instrumentalists to perform new works; and raising money and engaging producers for recording projects, and so forth. When I was a graduate student at Juilliard in the late 1970s and early 1980s, the composition faculty consisted of Milton Babbitt, Elliott Carter, David Diamond, Vincent Persichetti, and Roger Sessions, and Peter Mennin was president of the school. Obviously they were an imposing group. Although none of them ever really promoted their own musical styles or working methods as dogma, it took courage and focus for an aspiring composer in that heady environment to write personally felt music. During my first few years at Juilliard, I attempted to write in a post-tonal style, but I was searching to incorporate into my own music stylistic elements that eventually became part of the New Romanticism. The New York Philharmonic with composer Jacob Druckman started the New Horizons Festival in 1983. I remember how novel it was that he was discussing a new trend toward romanticism in music. But by then he was already reinforcing the credibility that David Del Tredici had attained in 1976 with his work Final Alice and other works thereafter based on Alice in Wonderland. The respectability of writing tonal music started to catch on. It is amazing to see now, from the vantage of more than 30 years, what was actually happening. We really were at the beginning of a new movement.
Jerry: Clearly, you've chosen a path — perhaps a populist one — that's mindful of traditional classical forms and which capitalizes on the kind of neoromantic, Impressionist, modernist Americana style that informs the music of some of our greatest 20th-century American composers. Interestingly, it's a path that many young American and a few European composers are taking today as a reaction, I think, against the hardcore avant-garde, Darmstadt, musique concrète, and electronic music crowds that came to prominence in the mid 20th century and that so swayed the academic community. The lesson learned by not a few of today's young composers, I suspect, is that there's a market for the beautiful in music and that the uninviting, unattractive, and unpalatable in music doesn't sell tickets at the box office. Do you believe that's a consideration in the music being written today, and, as a composer, do you think it should be? I ask this because Pierre Boulez has spoken of a moral responsibility that creative artists have to be original, uncompromising, and even anarchical, no matter what the short-term personal cost.
Ken: Commercial viability is an important consideration in programming, certainly for institutions whose financial stability is based in part on ticket sales and attendance figures. Generally, when I am composing a work of my own choosing I cannot worry about whether or not the music will sell tickets at the box office, or sell published scores and recordings. If I do, the artistic integrity of the music will be compromised from the outset. If I am composing a work on commission for a special occasion, however, with a prescribed theme or audience demographic, then I do adapt the music to meet special requirements. After all, that is what I am being paid to do. With each of my works I hope to express a clear emotional idea and musical point of view. The optimistic vigor and stylistic influences of the 20th-century American symphonic school dominate most of my orchestral scores of the last 10 years, including An American Place, Atlantic Riband, Discover the Wild, and United Artists. Recent works such as Falling Man (an 18-minute work for baritone voice and orchestra based on Don DeLillo's post-9/11 novel) and chamber music growing out of the Falling Man theme all have a darker and grittier musical vocabulary, incorporating elements of post-tonal procedures. I am most impressed by music that shows craft through contrapuntal technique and inventive formal structure. With that as a guiding principle, I set out to compose music that is colorful and emotionally direct. I employ whatever stylistic elements and technical procedures I need to express my ideas. When I am working, I put myself in the place of a listener, imagining what it is like to experience for the first time the piece that I am writing. How long does it take for a musical gesture played at the back of the orchestra to resonate out front? Does it happen too quickly, or is it a few seconds too long? The balance of getting the composition right, along with idiomatic orchestration, and giving the players and conductors something interesting to play is a fascinating process to me. Music that is preoccupied with its own mechanics, or doesn't seem inevitable, or doesn't appeal to the human experience of listening, perceiving, and responding, isn't going to have much staying power.
Jerry: New to disc — actually just published in 2012 — is your String Quartet No. 5 ("American"), composed for and performed by the Delray String Quartet on one of the two recently released Naxos CDs. But back in 2000, the American String Quartet recorded your Second, Third, and Fourth string quartets for Albany Records. Writing string quartets in a more or less traditional manner is, of course, in keeping with your overall approach to composition, but you've also added a novel twist to your works in the medium. With the exception of No. 4, they all bear subtitles with extramusical allusions — in the cases of Nos. 2 and 3 to collages by Robert Motherwell and poetry by Walt Whitman. This brings up two questions. First, how do you choose your subjects, and what is it about them that inspires you? And second, in what ways and to what extent do you believe it's possible for a musical work to depict specific visual images or a literary narrative?
Ken: Throughout my career as a composer, I have often turned to visual art and the written word (both prose and poetry) for musical inspiration. As a graduate student in the early 1980s, I involved myself in the diverse artistic milieu of New York City and found many sources of inspiration, including non-musical ones. With regard to visual art, I fell in love, in particular, with the works of the abstract expressionist artist, Helen Frankenthaler. Her large, free-wheeling, brilliantly colored canvases embodied for me the spirit of the enterprise, and it occurred to me that the aesthetic of Abstract Expressionism — states of feeling expressed through gesture — is as relevant to music as it is to painting. I immediately set out to compose works that would create a mood suggested by a particular painting. For example, three compositions dating from 1984 to 1986 — Out of the Dark (a suite for chamber orchestra), Fire, Ice, and Summer Bronze (a brass quintet), and Into October (for solo trumpet and organ) — were inspired by several large canvases and smaller works on paper by Helen Frankenthaler. Three later works composed between 1988 and 1994 — Reconciliation Elegy (a work for orchestra), Face of the Night (a chamber concerto for oboe and English horn), and my Second String Quartet, Where Have You Been? — were all inspired by canvases and collages by the abstract expressionist, Robert Motherwell. In each of these works, my intention was not to illustrate paintings musically, but to use my responses to them as an emotional wellspring from which to create communicative musical statements. The content — the values — inherent in the paintings suggested to me the emotional landscape, the shape, and finally the form, of the music that I would compose. The content of the paintings, then, suggested the content of the music, but the music doesn't attempt to recreate the paintings in sound. The same can be said of my responses to prose and poetry. In my work for the theater, I have created three one-act chamber musicals — The Great Nebula in Orion, A Betrothal, and Brontosaurus — set to dramatic texts by the Pulitzer Prize-winning playwright Lanford Wilson. The mood and shape of these works, each lasting about an hour, were determined first and foremost by the characters and the prose they speak. Similarly, I have set to music poems and prose of American writers as diverse as Don DeLillo, Emily Dickinson, Robert Frost, John Updike, and Richard Wilbur. With each setting, whether for male or female solo voice and piano, with instrumental accompaniment, or for a mixed ensemble of a cappella voices, it is always the collective meaning of and the values expressed in the words that determined the musical form and musical dramatis personae.
Jerry: Your other new Naxos disc, once again with JoAnn Falletta and the London Symphony Orchestra, features a number of your orchestral works, including an arrestingly beautiful Viola Concerto, titled Divinum Mysterium, and a Romance for Violin and Orchestra, titled American Rhapsody. How and when did you come to write these pieces, and, once again, what are the visual or literary sources of their inspiration?
Ken: During the last 10 years, I've had the extraordinary experience of having my orchestral and chamber music recorded on three separate occasions by the London Symphony Orchestra under the baton of my long-time friend and Juilliard classmate JoAnn Falletta. During the 2003 and 2006 recording sessions, I became acquainted with Paul Silverthorne, principal violist of the orchestra. A virtuoso, Silverthorne is a fervent champion of new music for the instrument. Over the course of our work together, a mutual friendship developed from our shared enthusiasm for the viola and he graciously agreed to let me compose a concerto for him. Divinum Mysterium takes its creative impulse from the Protestant hymn tune known as Of the Father's Love Begotten. The tune is built upon a scalar motif of four notes, extended by sequences and inversions. It is based upon the 11th-century Sanctus trope most commonly referred to as "Divinum Mysterium." My intention in composing this concerto was not to create a work invoking a particular religious theology, but one that grows out of the spiritual and searching quality of the original plainsong melody. Divinum Mysterium places the viola soloist in the role of a celebrant, leading the players of the orchestra on a journey of musical discovery from a hushed opening string texture to an energetic conclusion, affirming the power of massed orchestral color. The work is in four sections, taking the form of a single-movement tapestry of fantasy variations based upon characteristic intervals and scalar fragments of the hymn tune. The same is true of my Horn Concerto Canticle to the Sun, based upon the hymn tune All Creatures of our God and King. During the 2003 LSO sessions I became friendly with Timothy Jones, principal hornist of the orchestra. I have always loved the horn, and Tim's virtuosic playing dazzled me. I decided then and there that I had to write a concerto for him, and happily he agreed. American Rhapsody is a lyrical concerto for violin and orchestra. The work was beautifully recorded by soloist Michael Ludwig with JoAnn conducting during the 2011 LSO sessions. The work takes its creative impulse from the first few measures of the second movement of my Second String Quartet Where Have You Been? (After Five Collages by Robert Motherwell). The principal melody and accompanying harmonies of that work provided the starting point for musical development in this concerto. The impressionistic musical language of American Rhapsody is created from a melodically arpeggiated minor 11th chord presented by the solo violin in its opening phrase. The wide-ranging melodic arc of the solo violin theme, as well as the widely spaced pandiatonic harmonies of the work, have an open quality suggesting the stylistic elements of 20th-century American composers from whom I continue to draw inspiration. The work is cast in a continuously evolving single movement. The soloist serves as the catalyst for symphonic development of the musical ideas through interaction with various players and sections of the orchestra.
Jerry: In writing works that feature a solo instrument, do you confer with the players on matters of technique and execution?
Ken: Absolutely! Artistic collaboration is one of the joys of my creative life. Paul Silverthorne and I consulted for months by phone and e-mail during the composition of Divinum Mysterium. He would be either in London or on tour with the LSO and I was in Connecticut. We sent score files back and forth to one another. I would write something, send it to him, and he would send it back with annotations or call with suggestions. No point was too small to consider. Toward the end we got down to specific 16th and 32nd notes! I was writing the concerto especially for him and I wanted to take full advantage of his virtuoso talent and make the work as idiomatic as possible for viola. When I was a graduate student at Juilliard, I became friendly with Thomas Stacy, English hornist of the New York Philharmonic. Over several years, I learned by listening to this master musician what the English horn can really do. Tom's sound has a soulful, searching quality that is especially beautiful. I have composed four works for him. When we recorded his concerto Eventide with the LSO in 2003, Tom came into the recording studio in London — never having performed the work in public and without prior orchestral rehearsal — and delivered with JoAnn Falletta and the orchestra accompanying him the definitive performance of this work, for which he received a 2005 Grammy nomination in the category Best Instrumental Soloist with Orchestra. Amazing!
Jerry: You've been very heavily involved in music education. I'd just like to get your insights into the state of music education in the U.S. today. Are we falling behind? Are we doing enough, or the right things, with outreach programs to kids in primary and secondary schools, not necessarily to identify those with potential musical talent, but to insure the survival of our Western musical heritage and culture?
Ken: I wish I could say I feel generally optimistic about the state of education programs — at least in the public sector — for aspiring musicians in elementary and high schools. As with so many other areas of study, there is a critical shortage of funding for teachers, equipment, and adequate facilities. I recently looked again at The National Standards for Arts Education — What Every Young American Should Know and Be Able to Do in the Arts. The Arts Standards were developed by a national consortium of education associations and published in 1994 by the Music Educators National Conference. They are uplifting to read, yet some 20 years later, and without infrastructural support, they seem aspirational at best. But, perhaps, they have made an impact. I am always amazed and inspired by the energetic and dedicated young musicians who come to the University of Connecticut each year to study music.
Jerry: Let me ask you specifically about your most recent release on Naxos, containing your String Quartet No. 5 ("American"), a piano trio in one movement, titled Falling Trio, and a work in seven movements for solo piano, titled Falling Canons. I understand the quartet, the trio, and the canons have a connection with an earlier work, Falling Man, for baritone and orchestra. What is the connection, and what is the significance of the word "falling" in the titles?
Ken: The three works grow out of compositional elements from Falling Man, an extended scena for baritone, voice, and orchestra that I composed over a two-year period in 2008–2010. The original vocal text, adapted for setting by J. D. McClatchy, is based on a fragment from Don DeLillo's powerful post-9/11 novel Falling Man, published in 2007. DeLillo's novel about the events, aftermath, and changed lives of 9/11 enthralled me. I was riveted in particular by the dramatic opening prologue, in which the novel's protagonist stumbles out of the falling rubble of the World Trade Center. DeLillo's unflinching description of raw terror and absolute chaos provided a standpoint from which I could begin to come to terms as a composer with the shocking and world-changing events of that fateful morning. During the composition of Falling Man, I found that there were contrapuntal elements in the music that I could further explore and distill in the pure medium of solo piano. The original Falling Man theme is organized around a sequence of 12 different descending pitches. The compositional manipulation of the theme's 12 pitches in the vocal-orchestral work does not strictly adhere to classic dodecaphonic procedures; the pitches and their permutations are taken up in various melodic and harmonic combinations and provide the basis for musical development and transformation over the course of a throughcomposed vocal aria interspersed with vocal recitatives and orchestral interludes. The development of the compositional material in Falling Canons is much more rigorous, the goal being to explore the essence of the Falling Man theme on the keyboard within limited musical parameters. The interval of canonic imitation, temporal relationships, and the time signatures of each canon are related to the sequential number of each piece. Each of the seven canons begins and ends on a unifying primary pitch. Each unifying pitch represents a degree of the C Major scale. The first canon is pitched on B, the second canon is pitched on A, the third on G, and so forth, until all seven pitches of the scale are represented in a descending fashion. The seventh and final canon is pitched on C. Falling Trio is organized over one extended movement. As it moves forward from its ethereal opening — each of the three instruments floating down in a strict three-part canon from their highest registers — the work becomes a set of seven fantasy variations on the Falling Man theme. The introductory canon states the theme pitched on B, and the subsequent variations are based on successive ascending scalar pitches (the opposite of Falling Canons). Falling Trio also features a lyrical "reconciliation theme," interpolated twice in the work, with which the instruments attempt to reconcile the work's tonal and non-tonal musical language. The third movement of the quartet is cast as an Adagio elegy and adapts motivic elements of the Falling Man theme. I use the word "falling" in the titles of these works to connect them to the vocal orchestral work, which is the basis of their musical inspiration.
Jerry: Do you have any new commissions in the works? What projects are you currently working on?
Ken: Two transcriptions, one for band and the other for orchestra. I recently completed an overture titled Forever Free, commissioned by the Wheeling Symphony Orchestra, André Raphel, music director, to celebrate the sesquicentennial of the state of West Virginia, June 20, 2013. Maestro Raphel suggested that I compose a work incorporating indigenous elements of the state's musical heritage, capturing in musical sound the robust spirit of West Virginia and the celebratory atmosphere surrounding the year-long commemoration of the state's 150th anniversary. He also suggested transcribing the orchestral version for symphonic band to make it accessible for performance by high school and college students throughout the state during the sesquicentennial year. I have just finished the band transcription. Recently, Ryan Janus, principal saxophonist of the United States Air Force Academy Band (Colorado Springs), organized a national consortium of saxophonists and ensembles to commission Rush, a 15-minute Saxophone Concerto in two movements. I completed the band version earlier this year and am now working on the orchestral transcription, which will be premiered by the Space Coast Symphony Orchestra, Aaron Collins, music director, on November 9, 2013.
Jerry: You mentioned earlier what it takes in these times to be a professional composer, including entrepreneurship and promoting your own music. Among your published works that haven't already made it to disc, which would you most like to see recorded? And are there any plans afoot for some of those to materialize in the near future?
Ken: At the end of last August, JoAnn Falletta and baritone Roderick Williams recorded my fourth disc with the London Symphony Orchestra at Abbey Road Studios in London. Tim Handley, Grammy Award-winning producer, was in charge of recording and production. We recorded three works: Falling Man (for baritone voice and orchestra); Movie House (seven poems by John Updike for baritone voice and chamber ensemble); and Songs of Innocence and of Experience (four poems by William Blake for baritone voice and chamber ensemble). Naxos will release the recording on its "American Classics" label in 2014. With the release of this vocal disc, I believe the range of my orchestral, band, chamber, and vocal music will be well represented on recordings. Finally, I have a special place in my heart for the three chamber musicals I composed with Pulitzer Prizewinning playwright Lanford Wilson — A Betrothal, Brontosaurus, and The Great Nebula in Orion. They were originally presented by the Circle Repertory Company in New York City. I hope to interest a theater company in staging a new production of all three works and then record them for posterity. That, of course, is what a composer's life is all about.